Welcome to The Old Tin & V-Twins
Automotive Home Page

This site contains information and links pertaining to restoration, customizing, fabrication, and metalshaping as it relates to old cars, trucks, and motorcycles.
My Hobbies and Info

Because of my interest in all things mechanical, I have found many resources for information that most popular sites don't list. Instead of the usual links to places that sell car parts or services, I will try to provide information that will help the vehicle oriented person find information needed to do the work they want to perform on their own vehicle.
I will also highlight some of my past work and present projects.
NOTICE: this is my first attempt at a web page so it may take some time to get it right!!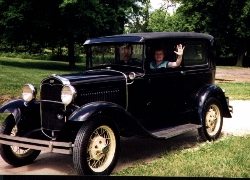 One of my favorites
1931 Ford standard tudor
Unfortunately I have sold this car and my 51 Harley to help make up for lost funds due to our fine economy.

Click here for the next page